Questions, suggestions, projects?
We look forward to hearing from you!
Thank you for your interest! Please give us a call or send us an email.
Energynautics GmbH
Robert-Bosch-Straße 7
64293 Darmstadt
Germany
Phone: +49 (0)6151 / 785 81 00
Email: info@energynautics.com
How to subscribe
to our newsletter
Receive news on our current projects and activities by email.
You may subscribe using this link.
Of course, you may cancel your subscription at any time.
Directions:
How to find us.
Coming from the motorway A5 take exit 26 Dreieck Darmstadt which merges with A672 andgoes towards Darmstadt/Griesheim. Continue onto RheinStraße (follow signs for Aschaffenburg/Darmstadt/B26). Also follow the signs for ESOC. Exit right onto Eifelring and then turn right onto Maria-Goeppert-Straße (follow signs for Oppenheim/B26/Griesheim). Maria-Goeppert-Straße turns left and becomes Robert-Bosch-Straße. The Technology and Innovation Centre (TIZ) with our office inside will be on the left, just behind the ESOC property.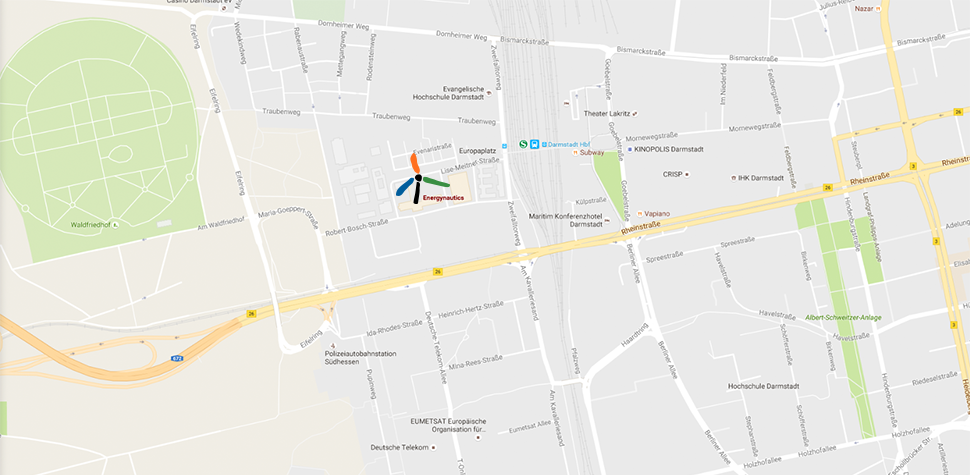 Outside the TIZ there are only a few free parking lots. Therefore we recommend using the carpark at the end of Robert-Bosch-Straße, on the corner with Zweifalltorweg.