3DMicroGrid Project Meeting at Energynautics Headquarters
From 8 – 9 November 2018, the fifth 3DMicroGrid meeting with participants from the involved research institutions and companies took place at Energynautics headquarters in Darmstadt, Germany. All in all, a consortium of 10 institutions and companies from 8 countries work on the realization of the 3DMicroGrid project.
The goal of the project is the design and development of a smart micro-grid framework, including a demonstration on the campus of the Malta College of Arts, Science and Technology (MCAST).
Energynautics contributes to the development and testing of the new concepts and tools. The project largely benefits from Energynautics' prior experience in developing microgrids, which was collected in the "Cell Controller" project.
During the November meeting, participants reviewed the current project status and discussed further steps. Furthermore, several interesting presentations on the current status of the work packages were given. Energynautics contributed with presentations from Dr. Nis Martensen and Daniel Masendorf. In addition to the great working energy in the project team, participants also enjoyed the conducive atmosphere in the official "City of Science" of Germany.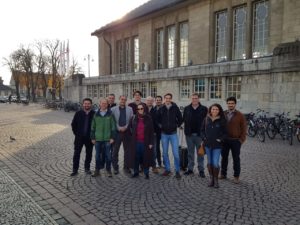 For more information on the 3DMicroGrid visit: