Capacity Building
We help you to grow necessary knowledge with targeted workshops and courses.
What is the effect of renewables on my power grid? How do I increase their share? Which requirements should they fulfil? And how can they actually support the grid?
We help you to tackle these questions with targeted workshops and courses. With our worldwide experience we are able to provide you with insights from successful renewable grid integration in other countries while shaping the content just to your specific needs.
Our Customized Capacity Building Approach
Our goal is to identify the specific needs of the training participants in advance and create the optimized training program for your group. It is an Energynautics trademark to be flexible enough to adjust the trainings depending on the customer's needs during the different planning phases for each training.
To create the optimal training program it is crucial to account for:
different power system structures and components
different experience with renewables connected to the power system
different legal and technical frameworks
different organizational structures (utilities, energy ministries and project developers)
different backgrounds by education, culture and experience.
Our approach in short:
Identify specific needs of the training participants in cooperation with customer
Create training content and topics in consultation with customer
Prepare customized training material
Conduct trainings online, in-house or at a venue chosen by the customer
Measure success of training e.g. in exams or assignments, multiple-choice tests or questionnaires
Topics of Training
As a very versatile consulting and capacity building company, Energynautics offers a variety of possible training topics, e.g.
International lessons learned from integrating vRE into power system
Grid code
Ancillary services from vRE
Challenges of integrating vRE on distribution system level
For the complete list of topics, please click here:
Location of Training
We are happy to conduct our customized trainings in the environment you prefer.
Either
on-site at your company,
in-house at our facilities in Darmstadt, Germany
or at any other venue of your preference.
Of course, we are also offering online trainings.
Train-the-Trainer:
These trainings are directed to professionals with experiences in renewable energies that wish to enhance their technical and economical skill set in this field in order to become a trainer.
High-level Capacity Building Workshops:
These workshops are directed to individuals at management level. This workshop will allow them to get an overview of power system operation.
Trainings for Regulators:
These trainings are directed to professionals working for regulators. They address topics specifically crucial for regulation entities such as technical frameworks.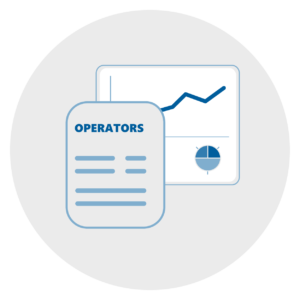 Training for Operators:
These trainings are directed to professionals working for operators. The participants will learn about power system planning and operation with detailed study cases.
Project + Training:
We have had very good experiences with combining project work and trainings in the past. If your company is interested in contracting Energynautics for a project e.g. a renewable integration study, it often makes sense to combine the project work with a training program – in this case with a focus on power system operation and planning with renewable energy.
Add-ons:
These modules can be part of any kind of training program you choose.
Hands-on-Training: Give your participants the opportunity for some additional hands-on-training. Either integrate basic or advanced software training with state-of-the-art software (e.g. DIgSILENT PowerFactory) to give them a better understanding of how to model renewable power generation for power system operation and planning studies.
On-site Learning: We are happy to offer you training schedules that include site visits e.g. to TSOs in Germany, wind parks or other interesting sites for your customized training program.
Why you should choose Energynautics to conduct your training:
» 20 years of project experience and a wide range of international capacity building activities, for the latest see below our project examples
» 20 years of lecturing various courses related to wind/renewable energy and wind/renewable power integration into power system since 2000, e.g. at KTH Stockholm, Hector Business School/KIT Karlsruhe, Darmstadt University of Technology, …
» Unique expertise that bridges industry and research: since 2000, we organize annual conferences on renewable energy grid integration with up to 300 participants:
» Large network of RE grid integration experts, through years of international work and workshop speakers
We offer more than 20 years of experience in power system consulting and capacity building
Energynautics is a power systems consulting company based in Germany. It was founded in 2000 by Dr. Thomas Ackermann and has since then been involved in numerous research, consulting and capacity building projects for governments, electricity network operators, regulators, manufacturers and investors, especially in matters relating to innovative grid design and power system integration of renewable energies. Find more information on the wide range of the topics Energynautics is covering and services Energynautics offers.
Have a look at some Project Examples:
Get to know our Trainers:
Contact our trainers directly (see contact information in the side bar).
We are looking forward to your inquiry!
This may be of Interest for you:
A Selection of our References.