Further measurement devices installed in Jordan
In the project, which is funded by KfW – the German government-owned development bank, Energynautics measures power quality and electricity consumption of Al Zaatari refugee camp in Jordan.
In 2017, a 12.9 MWp PV plant was installed next to the camp to ensure the power supply of the camp. Due to limited budget for electricity, power was available only for a few hours per day for the refugees. With the PV-plant, the duration in which electricity is available is supposed to be extended, using net metering. Net metering means that a prosumer only pays the difference between consumed and generated energy. The goal of the measurement campaign conducted by Energynautics is to prove that the PV-plant has no negative impact on power quality. Besides, the electricity consumption of each district of the camp is measured in detail to determine possible savings.
On-Site visit in June 2018
During the most recent trip, further Power Quality Analyzers (PQA) have been installed in addition to the devices that were installed last year. With these devices, power quality and consumption is measured in each district. Additional measurement devices are located directly at the PV-plant and at the offices of UNHCR, who operates the camp. All PQAs will record data for several months, which will be analyzed by Energynautics.
Furthermore, a meeting with the Jordan Ministry of Energy and Mineral Resources took place during the last trip, where intermediate results of the measurement campaign have been presented. All stakeholders have been very satisfied with the results and are excited to see further data analysis.
The installed Power Quality Analyzer by Energynautics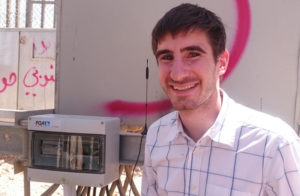 Daniel Masendorf from Energynautics on-site in Jordan